Our quest to seek and share
a life of meaning, growth and joy

The very essence of the human experience is the pursuit of a delightful life shared with others. So, it is natural for the curious mind to seek and share a life with meaning, growth and joy. Being continuously and unconditionally curious is in fact key to that growth. It allows us to learn from the past while paving our unique route of extraordinary shared experiences.
After all, it is not common to forget uncommon shared experiences. This, we can certainly learn from the past. With great admiration, we learn from and highly value the best of the old-world, rich cultures and meaningful traditions. Yet, we have a quest for pioneering unforgettable life experiences of the future. As the founder of Prestigious Venues, I have had the absolute privilege of making this ethos the very foundation of our work.
Prestigious Venues seeks out the world's most spectacular settings for nurturing a significant human connection. A connection that most often drives real-world growth. Whether it is world leaders coming together to shape the future, or corporate management coming together to make global change. Whether it's an occasion to recognise the efforts of the top-performing staff or to mark a significant milestone. Prestigious Venues enables those occasions by providing just the right settings that spark meaningful connections of the future.
Our recommended venues have extraordinary history, stories, heritage, character and extravagant detail. There is meaning in every corner - improved and revived over centuries. Their resilience and dedication have been tested beyond this recent pandemic, throughout their fascinating history. These venues are unparalleled and not to be benchmarked against blank-canvas spaces. So as a company, we tend to be a better match with clients of great calibre that seek meaning and impact.
Prestigious Venues is a strategic partner; for clients that seek the perfect event setting and for venues that provide those settings. For our clients, we review a great series of venues, benchmark value vs budget, make the booking and assess impact. For our member venues, we tell their story, raise their awareness, we develop their recognition, and ultimately, we connect them with just the right clients that are looking for them. It most often works like clockwork. Perhaps because of the calibre of our clients, perhaps because of the capabilities of our member venues and perhaps because of our advanced systems and outstanding people. Perhaps it is because of the unique combination of all of those advantages.
I am grateful to our people, venues and clients for these privileges and proud of what we've established together so far. But we will never stop innovating and there is a new world to look forward to. Prestigious Venues will continue bringing people together but each time with meaningful touches, never imagined before. Each time with a special appreciation of the heritage of our clients, venues, partners and destinations.
My background is in technology. It remains close to my heart and we continue to pioneer new ways to enhance the lives of millions. However, the world is increasingly being filled with new gimmicks, digital clutter and autopilot thinking. So, we, Prestigious Venues, are headed towards a future beyond 'virtual'; fully present in person, making that special human connection. We won't let technology govern our events and our thinking. Instead, we'll utilise it to make more meaningful human connections. We will continue to seek a global perspective with local insight, enabling growth and a delightful life, shared well.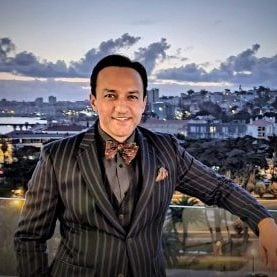 Habib Amir

Global Managing Director,
Prestigious Venues